Books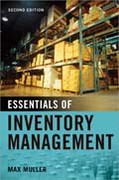 Your Price: $39.00
Essentials of Inventory Management
Author:
Max Muller
Description:

This purchasing management book features timeless stock-keeping fundamentals meeting up-to-the minute technologies to optimize efficiency and drive profits!
Inventory management is about more than counting what you've got. It's about understanding business realities and making decisions that balance current demand with future needs—while keeping overhead and operating costs to a minimum.
Now in its Second Edition, Essentials of Inventory Management gives inventory professionals the information they need to maximize productivity in key areas. This inventory management book covers physical stock issues to problem identification and resolution to technologies like RFID and other automated inventory mechanisms. Perfect for novice and veteran managers alike, this ultra-practical purchasing management book covers topics such as:
Forecasting and replenishment strategies • Differences between retail and manufacturing inventories • Materials requirements planning and just-in-time inventory systems • Simple formulas for calculating quantities and schedules • Management of inventory as a physical reality and a monetary value • Supply chain risk management
This inventory management book is complete with detailed examples, handy tools, and a revised and expanded chapter analyzing "Why Inventory Systems Fail and How to Fix Them,? this nontechnical yet thorough guide is perfect for both instructional and on-the-job use.
About the Author
MAX MULLER has been an executive for a wide range of product distributors. His seminars throughout the United States, Canada, and the United Kingdom have drawn more than 100,000 attendees. His books include The Manager's Guide to HR (978-0-8144-1076-9).
$39 to non-members and $31.99 to members.
Your Price: $39.00