Consulting Service
Improve your organization's bottom line through better purchasing and procurement consulting services. What is procurement consulting? Purchasing consultants go through extensive consulting training and will analyze and evaluate your purchasing practices and report the results for your specific operation. You have several different options through our professional purchasing organization.

Free Everyday Purchasing Problem Solver
Members receive quick no-cost solutions to common purchasing problems. Each member of the Society receives tips and answers to purchasing problems commonly encountered by most businesses. These answers appear in the monthly publications of the American Purchasing Society. Members are also encouraged to call or write to obtain individual and personalized assistance from purchasing consultants for answers to their purchasing problems.

Lowest Expense Option
Implement generic policies and procedures that you revise to suit your needs. Receive a "Generic Policy and Procedure Manual for Purchasing with Job Descriptions" that is available for a discounted rate for American Purchasing Society members. It includes a hard copy and a floppy disk of each policy, procedure, and job description with text files that can be imported into any word processing program and customized to fit an organization's particular needs. Click here to order the buying consultant manual or call the American Purchasing Society at (630) 859-0250 for questions or more information.

Quick, Inexpensive, and Effective
Purchasing Department evaluation. An analysis of your present policies and procedures and an evaluation of your purchasing activities will be made based on the answers to a list of questions that you answer along with the forms and manual that you use.

The questions were developed by Dr. Harry E. Hough, an experienced purchasing executive and author of the best selling "Handbook of Buying and Purchasing Management." Your purchasing operation will be analyzed and evaluated based on the information you submit. After analysis, you will receive a procurement consulting service report with recommendations that you should implement for better purchasing practices.

The procurement consulting service report will tell you if you are using the best methods of obtaining competitive prices. It will point out the ways you can obtain low cost products and services. It will highlight possible weaknesses in your methods of obtaining on-time delivery and tell you how other organizations obtain shipments on schedule. The report will analyze and evaluate how your purchasing operation assures quality products.

The cost for the procurement consulting service analysis and report is $875 for members. The purchasing consulting service analysis and report is not available to nonmembers. Learn more about our purchasing performance evaluation online today.

Customized Onsite Consulting/Training
American Purchasing Society, well-known, experienced speakers, purchasing consultants, and trainers provide in-house department evaluations, audits, and recommendations to reduce costs and improve efficiency. These highly qualified, impartial, purchasing consultants will help you eliminate your purchasing and materials management related problems. To obtain a proposal from our procurement consultants who have extensive procurement consulting training, interested company officers or authorized executives should contact Dr. Harry Hough with a description of your company needs at propurch@propurch.com or telephone (630) 859-0250.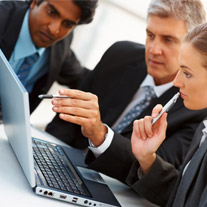 Fundamentals of Business Buying and Purchasing Management - "...the PDF files included in the lesson are and will be a great asset."
Bill Wright
Buyer
H.A. Phillips & Company
View more testimonials