Books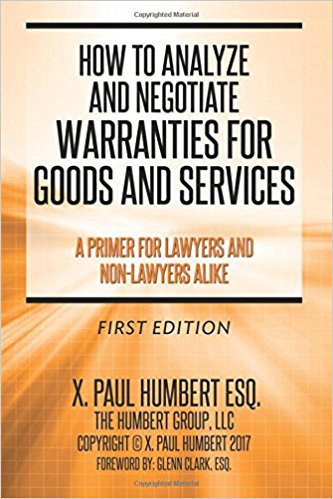 Your Price: $59.00
How To Anaylze And Negotiate Warranties For Goods And Services
Author:
X. Paul Humbert, Esq.
Description:

This warranty management book will increase your commercial sophistication and better prepare you for analyzing and negotiating warranties.
The book creates value by providing:
(1) broadly applicable warranty principles;
(2) real world examples in the form of actual litigated cases;
(3) annotated sample warranty language; and,
(4) a comprehensive warranty check list.
As noted below, this warranty analysis textbook has been widely acclaimed by academics and practitioners alike.
"A convenient reference tool for business, lay and legal professionals that provides quick insight into the many issues that surround warranties."
- Glenn Clark, Esq. Managing Director, Riker Danzig, Esqs
"This is a much needed book at the right time…I've recommended [Mr. Humbert's] books in the past to companies in a variety of industries with good results. I will add this one to my list of recommended resources!"
- Michael J. Gravier, Ph.D., C.T.L., Associate Professor of Marketing and Global Supply Chain Management at Bryant University
"Another excellent addition to Paul Humbert's expanding compendium of treatises describing, analyzing and offering insightful guidance."
- Michael J. Beck, Managing Director, M.J. Beck Consulting, LLC
"This book will increase your knowledge of warranties and their importance so that you avoid future headaches and supplier relationship problems, while saving you money."
- David Dreyfus, Ph.D., Assistant Professor of Supply Chain Management, Department of Supply Chain Management, Rutgers University
When a product disappoints or a service falls short, it is the purchasing and SCM professional who gets the call from the client asking about the warranty. If commercial success and professional self-preservation is an instinct you possess you will master the basic principles and legal tenets applicable to warranties. Use this warranty management book to learn about how to analyze, structure, negotiate and manage warranties, while avoiding the pitfalls. It is all well and good to divine brilliant supply-chain strategy with a carefully calculated P&L. however, poorly articulated contractual terms eat "strategy" and well-intentioned "plans" for breakfast. Strategy is nothing without planning, and planning is nothing without a well-written allocation of the parties' respective rights and responsibilities. Consider this: an architect can give you beautiful plans, but the contract with the contractor is what will define success or failure regarding schedule and budget. Strategy, sound planning, and careful contracting are the tripartite keys to success. Warranty rights and remedies are a big part of achieving that success. Without all three, you are sitting on a two-legged stool, so order this warranty analysis textbook today.
Your Price: $59.00